Introduction
While we've designed Photon to be very simple and intuitive to use, some guidance may be helpful in ensuring you get the most out of every single feature Photon has to offer. This series will cover every aspect of using Photon in depth, so you can be sure you're getting the most control over your photos.
Launching for the First Time
When you first start up the app, you'll see a splash screen. Choose "Get Started" to begin your photography journey. We'll present you with a few things that Photon can do then, if you haven't subscribed, you'll be presented with the opportunity to do so. Since we offer a free 7 day trial period, all information from this point forward will assume that you're in a trial, or have subscribed to get full use of the app.
Then, we ask for some permissions. What are they used for?
Camera

This permission is critical, as without it, Photon cannot take photos.

Photos

This might seem less critical than the camera, but without it, Photon cannot save the photos you take.

Location

This data is used exclusively for adding geotags to your photos, if that has been enabled. It will never be used for any other purpose.
Tap on each permission requested and then choose what you'd like to allow. Please note again, without access to either camera or photos, Photon will largely not be able to function.
After selecting "Continue", you're ready to go!
Taking a Photo
The big white button at the bottom center of your screen is the shutter button. To take a photo, simply tap it! While Photon gives you full manual control over your shots, it also has excellent automatic functionality. You can still point and shoot, and get some excellent photos, without ever touching anything else. But that's not why you're here, is it?
You can also take a photo by pressing either one of the volume buttons on the side of your device. This is handy because other devices can trigger the shutter such as earbud volume controls, and bluetooth based generic shutter controllers.
Quick Switchers and Information
Photon provides you with a wealth of information within it's sleek, minimalistic interface. At a glance you can see and change the flash, lens selection, format, resolution, and reset your manual controls. Take a moment with the image below to find where each element is.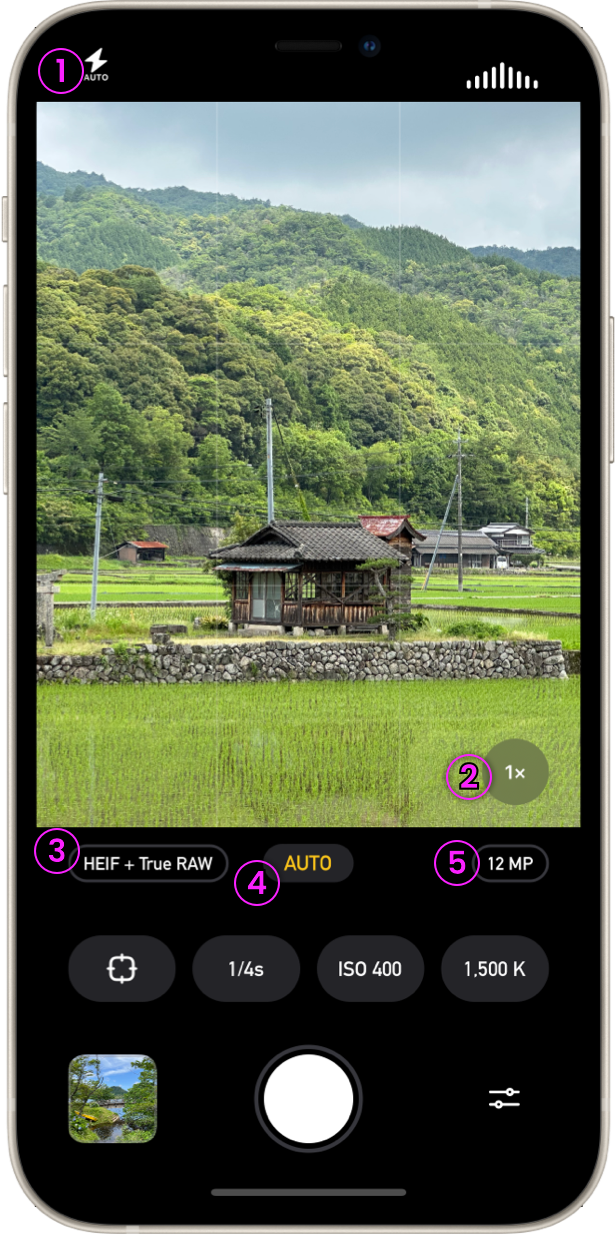 Flash Control

This button displays the currently selected flash option, as long as it's something other than off. Tap on it to open a fan palette of all of your options. You can choose from (starting at the bottom): Off, Automatic, On, and Torch Mode. Please be aware that Torch Mode keeps your flash on indefinitely and will adversely impact battery life.

Lens Control

This button displays the currently selected lens. Tapping this button will cycle through all available lenses, excluding the front facing (selfie) lens. Tapping and holding on this button opens up a fan menu of lenses, which you can then swipe to your desired setting. Available lenses are heavily dependent on the device that you're using and reflect the physical lenses on it. Typical choices include Telephoto (3x), Wide Angle (1x), Ultra-Wide (0.5x), and Front Facing (selfie)

Format Control

This button displays the currently selected format. Tapping on it will cycle through the options for the formats selected in settings. This includes small file format (JPEG or HEIF) only, small file plus RAW (either True or Pro), or just RAW. If you'd like to select a format different from the ones cycled, simply tap and hold on the button and a menu will be shown to do so.

Auto Button

If you haven't touched any manual controls, you are by default in Auto mode, and the Auto button will be yellow. Once you set some manual controls it will turn white to indicate that it is off. If at any time you'd like to clear your manual designations and return to Auto, simply tap the button.

Resolution Button

This button displays the currently selected resolution. Tap it to quickly switch between 12 megapixels and 48 megapixels (if available). Please note that not every combination of format and resolution is compatible. If you attempt to choose an incompatible combination, Photon will show a message letting you know, with a few options for how to resolve the conflict.